Sorry for the delay on today's strip guys. I had some technical thing (totally my fault) where I screwed up the upload, and when I got home I spaced on it while working on Matriculated. But here it is and… I'm pretty happy with this one!
It's kind of a call back to the cross sectioning we saw of Fragile Rock back in strip 25. But also I'm pretty happy with the art. Look how adorable Turtle is there splish-splashing his way to shore. And the strip has clues of what's to come. See the sign in front of the forest that awaits them? Does it mean danger? Does it mean danger just for bears? We'll find out tomorrow!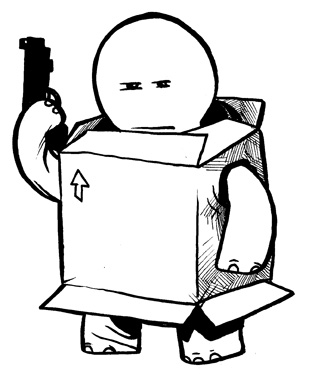 Today's incentive is something that I drew over a month ago when we were all at Pittsburgh Comic Con. I filled up a 22-page sketchbook with a slew of different TvB drawings and this is one of my favorites. It was right around the time in the story where Turtle gets that giant rock dropped on him. I had told the guys that if Bunny won, the rock would crush Turtle, but if Turtle won the pressure would shoot him clear out of his shell and into the lead. He would naturally be naked and we joked about pixelating his secret area and covering it up with different things. I had thought that a great temporary "shell replacement" would be a cardboard box. But it was not to be – Bunny won, and the strip continued.
Are you sorry that didn't happen? Well, the best way to make sure your favorite critter is the front-runner when they enter the forest is to vote! For any new folks, I'll run down the list of the different methods of voting. You can choose a "style" (over to the right there) to give your favorite 1 vote. You can do a pin-up or a T-shirt shot for a few more. But the way to earn the most points is by buying a T-shirt. I know, it seems like this is a catch, but it's not just about selling shirts, it's about making the readers more involved with the comic. Plus, the shirts are top quality, reasonably priced, and cute to boot!
I have a couple of shout outs before I go. Bunny made a guest appearance over at a great strip called Blaster Mac by Michael Grover. He's got a really strong style and is just starting out so you know it'll only get better. Give it a look! Guest appearances are another way to earn points for either side, and Michael helped Bunny get over a big hurdle this week. If you include either character in your web comic, be sure to let me know and I will spread the word!
I did a guest strip myself for a comic called Ninja-Bunny (how could I say no?) and it was a ton of fun. It's a really great idea for a comic where there's a different scene each day featuring a bunny in a ninja costume. Check out ninja-bunny.com for a slew of furry fury!